Vallarta City Tour
Puerto Vallarta and its surroundings are quite diverse. This tour will give you a taste of all those surroundings. We'll stop at Marina Vallarta, a place where you can appreciate yachts and sailboats, as well as luxury condominiums and shopping centers. Afterwards, we'll have a visit to the center of Puerto Vallarta, which will include stops on the boardwalk where, within minutes, you'll find the Church "Nuestra Señora de Guadalupe" and later a tile factory where you'll find a great variety of handmade tiles.

We'll go to El Pitillal, a place in Puerto Vallarta where life is centered around the square with its beautiful church where there are all kinds of celebrations, and carnivals. You'll notice that there are many shops where you will find everything.

Then we'll head to Conchas Chinas located south of Puerto Vallarta. Located on the hills to get a great panoramic view of the entire Bay of Banderas. This is part of the area that became famous for the filming of "Night of the Iguana". Los Arcos can be seen from this part of town and is a group of 3 huge rocks just off the coast near Mismaloya. There is an underwater nature park and reservation in Los Arcos.

Our final stop is a visit to Rancho Verano where we'll visit a tequila distillery. You can not only learn how to make tequila, you will have a small tasting. During your stay in Puerto Vallarta you'll realize that we have a great variety of wonderful landscapes, places and of course, its people.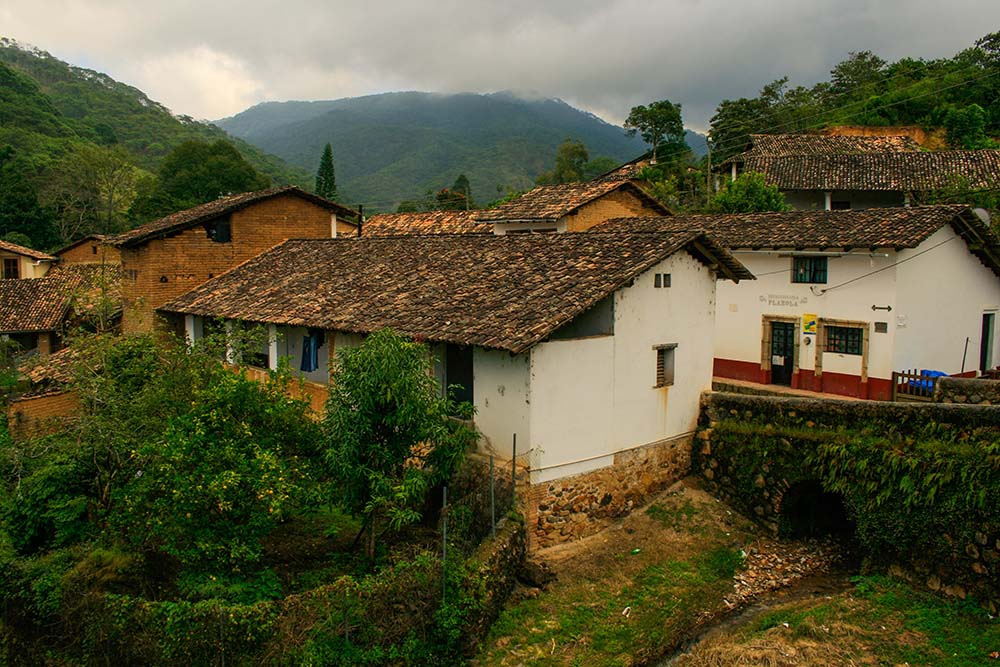 ---
San Sebastian
San Sebastian is wonderful little town tucked in the Sierra Madre mountains. As with most towns the main plaza is the heart of the activity. You'll find an 18th century bandstand to remind you of its heyday. There is also a beautiful church and the Jalisco Hacienda which has been converted to a hotel and museum. Throughout the years the town retained its heritage and the traditional Mexican way of life.

San Sebastian was founded in 1605 and saw its prosperity peak in the 17th century. As the gold and silver mines in the area stopped producing the town's population declined from its peak of 20,000 in the 1930s.

The scenery during our trip on the winding roads of the Sierra Madres is beautiful making the entire day an enjoyable trip.


---
Sayulita
Sayulita is located about an hour or so north of Puerto Vallarta in the state of Nayarit. On our way there we will stop in Nuevo (New) Vallarta, Bucerias and La Cruz de Huanacaxtle. Bucerias has a wonderful long open beach, a great little market area and many beachfront restaurants. La Cruz is home to a new marina and many new businesses are opening in the area.

Finally we will continue on to Punta de Mita on the point where the Pacific Ocean meets Banderas Bay. Home now to the Four Seasons hotel with world class golfing and very upscale homes, the town itself still has a local feeling. In Punta de Mita you are welcome to shop, surf or enjoy the local cuisine at the various restaurants.

We do offer a Sayulita only option as well as the extensive tour described above so if you just want to get to Sayulita, grab a board or a cocktail and enjoy the beach we are happy to accommodate whatever you desire.
---
Mascota
Mascota is a quaint an old town, established in 1592 by Spanish colonists who came looking for gold and silver. Enticed by the rich valley they stayed in the area and began farming the fertile valley. Mascota's 4300 foot altitude makes this a semi-temperate climate which is great for growing a variety of crops and it surrounded by forested ridges populated with lush pine and oak trees.

The town itself is charming. Cobblestone streets take you to the main plaza where the church de Virgin de los Dolores (The Virgin of the Sorrows or Precious Blood) is located. The church is majestic with its soaring arches and took over 100 years to build.

Take advantage of a stop in Mascota to sample the local oranges, tomatoes and avocado. Mascota is well known for growing agave lechugilla which is the sugar used to make mescal, a local moonshine.

This is a very enjoyable trip and a departure from the beach and mountains with its temperate climate and greenery.